Tripbook iPad App: Photo Sharing Scrapbook
Latest Ideas
There are TONS of photo based apps in the App store, but there aren't too many that allow you to do multiple tasks in one, single app.  
Photos should be arranged, edited, and shared seamlessly. Tripbook is the all-in-one app to make sharing your photos that much easier.
The usual process of photo sharing is finding the perfect editing app.  Once you find that, you upload every photo, one by one – tedious! Then you realize, maybe you wanted to add some frames, stickers, or text; you find
another editing app.  Now, you're at the sharing stage and Facebook is asking you to select all your photos, but you're just not sure which ones you were wanting to upload.  It can be a hassle, especially for vacation photos.
Let Tripbook take you that extra mile.  Select the photos you want by a date range, view them, and edit them!  Tripbook comes with the Aviary photo editor that allows you to choose from several filters, stickers, frames, effects, etc and you can add captions to your photos.
Once you've had fun editing the photos, you can add them into a selection of different collages and add a background.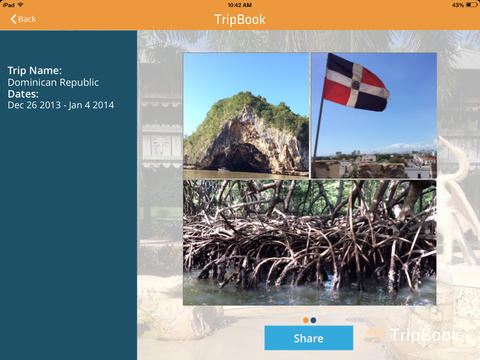 After your Tripbook is complete, easily share your digital scrapbook with your Facebook friends or email it.
Start sharing your memories with Tripbook, today!