The Future is Bright for Developers
Latest Ideas
Mobile app development is a fast-growing industry, and for good reason. Take a stroll through any public place and you'll notice scores of people engrossed in their smartphones while they wait in line, walk down the street, or even drive down the highway. Need directions? Want to order a pizza? Wondering which Fibonacci numbers are under 1000? The answers are at your fingertips when you carry a smartphone.
Mobile Apps Development on the Rise
With Apple selling 20.4 million iPhones in Q2 last year, a surge of interest in tablets like the iPad and Android tablets, and Android mobile phones rising like a fresh batch of dough, mobile app development is taking the world by storm in 2012.
Consumers are now treating such mobile apps as turn-by turn navigation, instant weather updates, graphics-intense gaming, social networking, and mobile search as expected functions of every smartphone. The majority of smartphones come with pre-installed mobile apps such as Google search, Google maps, Skype, Twitter, facebook, Instant Messenger. Thousands of available mobile apps are downloaded every day to supplement the functionality of smartphones and tablets, and mobile app developers are scrambling to keep up with the demand for the hottest apps at the lowest prices.
Image: jannoon028 / FreeDigitalPhotos.net
2012 Smartphone Statistics of Interest for Mobile App Developers
Renowned statistics publisher the Nielsen Company has recently circulated smartphone statistics for late 2011 and early 2012. The results are not surprising for industry followers, but show a steady increase in growth even over the last few months in smartphone sales and popularity. Apple and Android are running nearly neck-and-neck in the mobile operating system popularity contest, inching out previous favorites such as the Blackberry and Windows phones.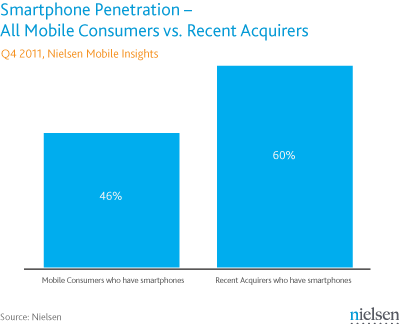 Since both iOS and Android devices utilize popular app marketplaces, mobile app development continues to be a powerful force in the technology sector for 2012, with continued growth predicted throughout the year as more and more consumers upgrade to smartphones.
Going Apple or Alien for Mobile App Development?
For many mobile app developers, the fork-in-the-road decision to write for iOS or Android mobile applications is solved easily enough- develop for both markets. Cross-platform mobile application development is gaining popularity as consumers come to expect the flexibility to play their favorite games or utilize preferred apps on their iPads, Android smartphones, and iPhones. Providing clients and consumers with flexible coding skills to reach both audiences is a valuable skills that many mobile app developers are capitalizing on in recent months.
Mobile Apps Development in Your Home
What mobile apps are the most popular in your home? How valuable is cross-platform mobile apps development to you? Are you an Apple or Android fan, or do you walk the line, preferring both devices for specific situations? Do you still have a Blackberry?