Sleek, Sexy, Innovative: Why the iPad 3 is a Great Device
Latest Ideas
Apple's new iPad 3 pushes the envelope and is destined to change the way we use mobile devices yet again. If you haven't watched the announcement, prepare to drool on your keyboard over such features as retina display, voice dictation, and next generation wireless supporting 4G LTE networks. The new iPad is faster, crisper, more colorful, and filled to the brim with hidden goodies. It's just downright sexy.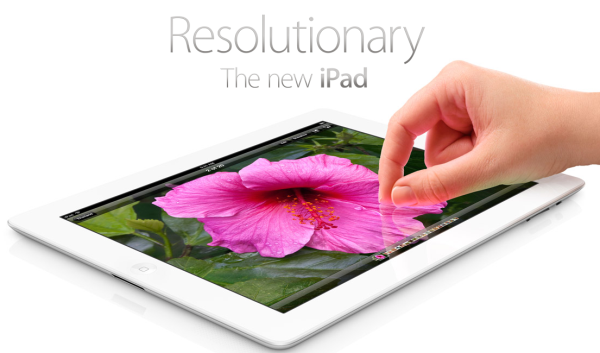 The Sleek, Sexy, and Innovative iPad 3 Specs
The newest iPad, which releases for retail sale on March 16, 2012, boasts impressive specs and upgrades, such as:
2048 x 1536 retina display with more pixels than your HD television at 264 pixels per square inch
44% greater color saturation than the iPad 2
New A5X chip featuring quad core graphics for 4 x the performance of the industry standard NVIDIA Tegra 3 chip
5 MP iSight backside illuminated camera with a 5 element lens, hybrid infrared filter, advanced optics, autofocus and white balance, and face detection
HD video recording at 1080p HD resolution with image stabilization, and temporal noise reduction (which improves quality in low light situations)
Voice dictation- tap the microphone and dictate text directly into apps
Next generation wireless- including EV-DO, HSDPA, DC-HSDPA, and 4G LTE networks (and 3G world ready out of the box)
Personal hotspot- share your network connection with up to five other devices10 hours of battery life for general use, and 9 hours on 4G9.4 mm thin, weighing in at 1.4 pounds
Expanded iCloud storage
Available in black or white, with the same pricing structure as previous iPads on release (starting at $499)
Pre-order sales open now
In the keynote address from Apple, CEO Tim Cook stated they set out not only to create a new product with the iPad 3, but also to create a new category- to change how we live and use mobile devices.
Innovative with the Future in Mind
Apple has certainly changed the way we process and utilize information, and they back up this claim with some impressive stats:
172 Million Post-PC devices sold last year, making up 76% of revenues in Q4 2011
352 Apple retail stores open around the world with 110 Million customers visiting those stores last quarter
315 Million iOS devices sold last year- 62 Million sold last quarter
over 585,000 apps now available on the App Store
25 Billion apps downloaded
15.4 Million iPads sold in Q4 2011 with more iPads sold in Q4 than any PC manufacturer sold worldwide despite the release of 100+ tablets by competitors
Many of the changes announced today by Apple hint at an integration of several Apple products to combine movies, photos, music, gaming, and Web applications into one universally synced access point from which you can view you media on any Apple device, including the newly upgraded Apple TV. It seems Apple has its sights on more than just the music and app industry- they're aiming high for the whole enchilada of media consumption.
What the New iPad 3 Means for iPad App Developers
One of the most impressive and envy-inducing features of the new iPad 3 is its impressive retina display. Add to the crisp text and images the lightning-fast A5X processor, and you have every app developer's dream combination.
Popular iOS app development companies, Namco, AutoDesk, and Epic Games included brief presentation during the keynote speech, showing off what's in store for iPad 3 consumers in the very near future.
Namco Brings Classic Updated Styling to the iPad 3
Namco, maker of apps such as Pacman, Dig Dug, and Pole Position, showcased their latest flight simulation game created with the iPad 3's impressive graphics in mind- Sky Gamblers Air Supremacy. The app features increased details in the cityscape and simulation environment, creating an immersion experience that has to be seen to be appreciated. The app launches later this month in the App Store.
The iPad was Made for Creatives
AutoDesk, creator of popular Mac desktop and iOS apps such as SketchBook, provided a 90 second live demonstration of its newest app, SketchBook Ink, on the new iPad 3. Not an ordinary vector app, the SketchBook Ink app feature independent resolution that takes full advantage of the iPad's retina display. Images of over 100MP are capable of exportation with the new app. SketchBook Ink will be available this April for purchase.
Epic Games Cashes in on the iPad 3's Impressive Graphics
Legendary Epic Games, maker of the best-selling Infinity Blade apps, provided a sneak peak at its latest sequel in the graphics intensive game series: Infinity Blade Vengeance. The third installment in the Infinity Blade line features graphical interfaces used in the filmmaking industry, impressive character and landscape detail, and the same heart-pumping action fans have come to expect.
You can watch the keynote address from Apple for more information.
Image courtesy of Apple.com.