Parents Turning to Touch Screen Devices for Children – Good or Bad?
Latest Ideas
More and more children are using mobile apps- from games and social networking to educational apps. The mobile app industry geared for children aged 16 and under is booming, and kids and parents are turning to tablets and smartphone devices to keep kids entertained, learn a new language, and work on educational tasks. Some parents are giving kindergarteners iPhones and iPads, and one company even makes a training potty chair with an iPad holder to keep toddlers entertained in the bathroom.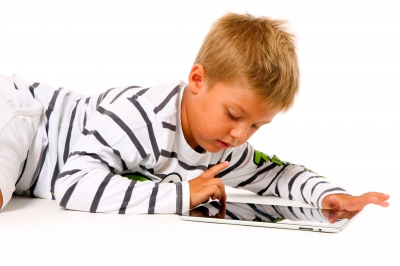 The market for kid's apps is huge, and with many schools introducing iPads into the general curriculum, the demand for educational and kid-safe apps will only grow. When it comes to educating kids with alternative learning styles, autism, and learning disabilities, the iPad has proved to be indispensible. The hands-on touch screen and visual teaching style combined with audio reinforcement is perfect for teaching kids who struggle with traditional teaching methods. These devices have also served as a communication device for kids with aphasia, apraxia, and other difficulties. Public school and private speech therapists are embracing the qualities of the iPad in speech and language pathology therapies.
With kid's apps becoming such a mainstream part of everyday life for the touch screen generation, it's no surprise that kids are showing interest in how apps are created. In Denver, 9-14 year olds spent Spring Break learning about mobile app development at a special spring break camp. More and more kids are showing interest in coding at an early age. Who knows what kids want in a mobile app better than other kids?
The New Yorker published an article about How to Make a Great Kid's App, citing the popular Toca Boca series of kids' apps as examples. These apps approach learning through play- the way a child does, not through educational activities like adults. If thinking like a kid truly is the root of Toca's success, these young coders could be millionaires by the time they graduate college.
Last week, I watched amused as a toddler tried to get a digital picture frame to "work" by repeatedly tapping the screen. His parents obviously had given him a tablet often, and he assumed that all rectangular screen devices work the same way. Today's kids expect to interact with technology hands-on, in a multisensory environment. They expect sound, touch, and visual to all come together during these experiences to enrich their worlds. App developers can take advantage of this shift in culture by developing mobile apps that appeal to parents and kids alike.
Will future app development companies be hiring child consultants to help plan the development of apps for kids? It's not likely, but they may engage this touch screen generation by utilizing traditional market research techniques like surveys and product testing for the appropriate age groups. App developers may be taking their work home to test a new app with their own children, or volunteering to try out new apps in the classroom with trained instructional technology teachers.
If the future of mobile app development continues to trend heavily towards creating apps for kids, app development companies will have to employ creative and well-researched techniques to effectively reach this market in the years to come.
Image courtesy / FreeDigitalPhotos.net