Mobile App Design – Is Flat Design a Trend?
Latest Ideas
Most iOS users are conformed to the more skeuomorphic design that portrays real life characteristics.  For instance, there are quite a few native iPhone apps that use a mobile app 
design like the notepad, compass, calculator, and voice memos.  However, more people are interested in seeing a flat design versus a realistic feel.
Unrealistic = boring
Many people associate "flat" with plain, boring, bare, and any other relevant adjective. Surprisingly, this new design is appealing to many users. It is supposed to express a clean, fresh, and crisp look.  Usually, having bright colors,
but not dependent on them, and staying completely 2D. A good example for flat design is Windows 8.
Will Apple jump ship?
This question is circulating through the online tech blogs, wondering what Apple has in store for iOS 7.  Many are expecting a completely revamped look, instead of the typical design.  According to 9to5Mac's reporter, Mark Gurman, who is notorious for providing Apple news first, has the inside scoop. Apparently, the glam and dimensions will become a flat, matte finish.
If this information is correct, all of Apple's native apps will receive a new makeover that will completely stray away from Steve Jobs intended designs.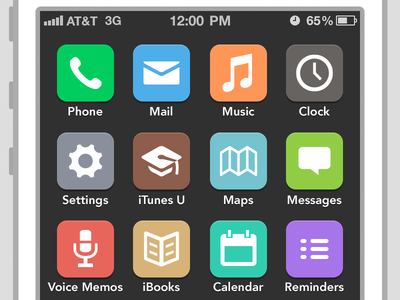 Most are wondering why Apple worked so hard to differentiate themselves from the surfacing trends, making their own unique brand, to possibly competing with this trend.  However, if this is what loyal users and potential users want, is it what they should go after?
We want to hear your thoughts!  Is this an upcoming trend for mobile? Should Apple stick to their original designs?  This could be an interesting debate…