Jack Nicklaus' Golf My Way iPhone & iPad App
Latest Ideas
Golf My Way ap is compiled of golf lesson videos from Jack Nicklaus and the way he was taught to play the game.  This app is useful for all golfers, beginner to professional.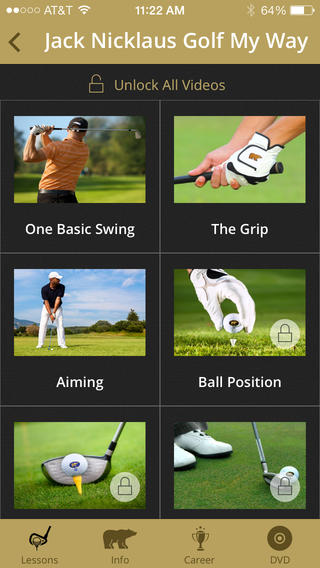 There are lessons given on several different areas of golf including:
One Basic Swing
Power
The Putting Stroke
The Draw
The Grip
Aiming
Position
Head
Foot Action
The Takeaway
The Backswing
The Downswing
The Follow through
Hitting Higher
Jack Nicklaus started these tips back in 1974 when he released a book.  From there he made the videos on VHS, and then soon released to DVD.  Now, Nicklaus has all of his pro-tips on both the iPhone and iPad so you can easily take your device with you while you're at the driving range or playing a round of golf.