iPod Touch & Nano Coming This October
Latest Ideas
With all this iPhone 5 hype, everyone seems to be neglecting the new iPod Touch and reinvented Nano that will be debuting in October.  Seems as though Apple continues to keep us up to date with all of our gadgets – so, let's break down these magnificent iPods that store our cherished music!
Soon our pockets are going to feel empty!
Along with its cousin, the iPhone 5, the new Touch will also be the thinnest and lightest iPod touch ever.  It is apparently made from some strong grade of aluminum that keeps it light and tough, so you won't damage your gadget while jamming out. You rock star, you.
Color me…
… pink, blue, green, red, black or gray.  That was your new iPod Touch speaking which will be available in a new skin of your choice!
As well as your new colorful
(or if you decide to stay simple) iPod, you will get what they call a "loop".  It a looped string that attached to the back of your Touch (similar to the "Wii" remote) so you don't fling it at someone while pretending it is a microphone – we've all been there, just wrap it around your wrist, okay?
Seeing is believing
The touch now has a 4-inch Retina display that will exhibit your entertainment options bigger and better.  From your playlists, to movies, to photo browsing – it will give you a whole new perspective.
Along with that, you have a new amazing camera! It is now packed with 5 megapixels, which is supposedly 7x more than the previous model.  And it gets better… your front camera has been improved for better shots.
Other added goodies are panorama view, tap to focus, face detection, LED flash and can be edited right on the spot.   And, a dual-core A5 chip that provides about twice the processing power than before.  It makes the touch responsive and gives it a sharp image.
Let's get "renanoed", shall we?
This little guy is roughly the size of a credit card yet; its display is almost twice as big as the previous model.  Even though the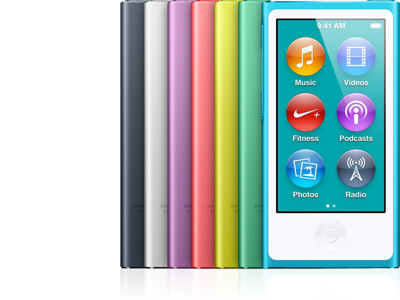 screen is small, you can still vividly watch your favorite shows, movies, podcasts and videos.
And your color choices are even expanded with this bad boy – red, green, yellow, purple, red, blue, black, and gray.
Size can be deceiving.
So, we get that it's tiny, thin and can do pretty cool things, but what else do you know?
Did you know it is now built with Bluetooth 4.0?  Why, yes it is!  You can pair your Nano to your headphones, car and supported speakers leaving the wires at home while driving, working out or at your house party.
Not sure how many of you all actually listen to the radio, but that is now available on the Nano, too!  And the coolest part isn't that you get to listen to your favorite stations or hear updates on the game, but you can take a break from it all, if needed.  You can pause the radio show and rewind up to 15 minutes – um, sweet!
Workin' on my fitness
Need motivation? Your iPod Nano is your newest motivational buddy.  Nike+ offers a built in pedometer, so throw away those inaccurate clip-ons, and let it track your distance, pace, time and calories shredded.  Bluetooth also lets you connect to heart rate monitors and your headphones – how convenient!
Afterwards you can sync your Nano to nikeplus.com for daily activity/goals and see how you stack up to your friends with NikeFuel.  Motivation at it's finest!
Accessible features for everyone!
It is equipped with VoiceOver allowing the user to speak the name of the onscreen menus, songs or artists.
Also, the invert colors option that changes to white on black.  It can be used in any application!
And lastly, if you have a hearing impairment and limited to hearing in one ear, you can change the setting to Mono Audio to suite your needs.
PRICE$ PLEA$E!
iPod Nano that has been "renanoed" is $149 – preorder now!
iPod Touch – 5th generation – 32 GB / $299 & 64 GB / $399 – preorder now!
These guys will be available to you in October – check with Apple to find out exact dates!
Want to know even more?
Yes, there's more – but most of you probably already know about it.  The iPod Touch has a few of same features as the iPhone 5 due to the iOS 6 update.
Check out our previous blogs for additional updates with Apple!
iPhone 5 update | iOS & Product update
Image courtesy of Apple, Inc.