iOS 7 – Flat Design coming this Fall
Latest Ideas
The new iOS 7 has been revealed and as usual, will be coming this Fall.  As anticipated by many sources earlier this year, Apple will be giving their users what they've all been waiting for – flat design and simplicity.
After six years of the same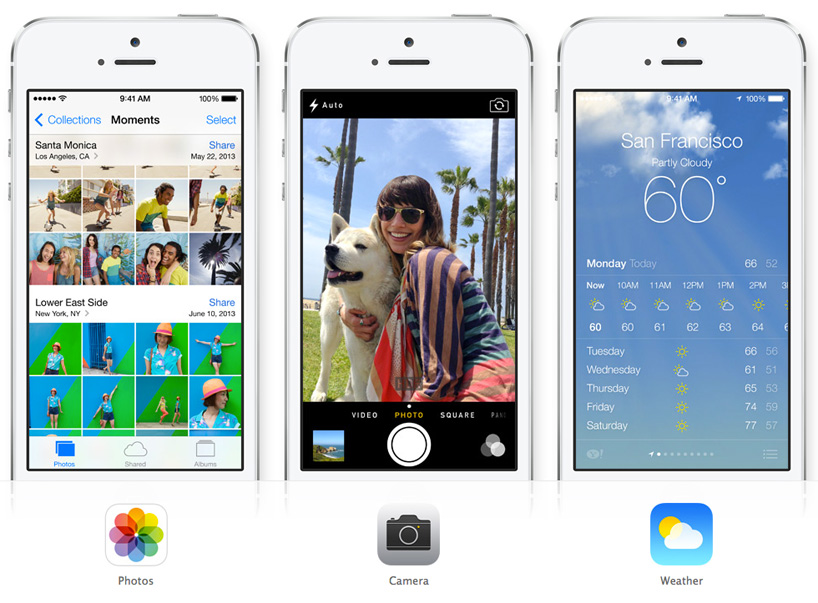 design, Apple decided a change was necessary and it's a good one!  For years, we've all been excited for the changes to come from the new operating system, and everyone should be quite ecstatic to get ahold of this.
I've been given an awesome opportunity to get a hands-on experience with iOS 7 and it has been like no other.  It is an entirely new user experience and I'm quite smitten with the whole package.
Features
The look and feel of the user's iPhone is based on their background.  The phone has depth to it and depends on the user's movement. Pretty cutting edge stuff. All of the app icons have been redesigned.
Notification Center
Can now be viewed in the lock screen! The user has the option to view their workflow for the day, view all notifications, and missed ones. Instead of having to unlock their phone each time, they can review and evalute each notification.
iTunes Radio
Just like Pandora or any other radio type app out there, you can now search and add playlists.
Camera
Photos are now recognized by time and location, and will group them into collections.  Plus, with iCloud photo sharing, your friends and family can add their own photos and videos to your albums. Adding ease to picture taking, just swipe to change from camera, video, or square and then choose a photo filter.
AirDrop
This is probably one of the more exciting features of iOS 7.  This allows you to send and receive pictures, video, text, etc. from nearby contacts or people (if the settings allow for everyone).  It doesn't connect to a tower or through any app, it would just allow you to connect with someone for however long you're near them.
Safari
Completely new user interface that makes a much better experience while browsing the net.  There is only one search bar instead of two, having a user search or type in an address.  Also, it comes equipped with a "private mode" and articles can be shared via AirDrop.
Siri
Sir is now considered an "It" because you can change your companion to either a male or female.  Siri can also speak in more languages and as always, gets smarter with each update!
Control Center
A user can manage the controls that are needed to be accessed quickly with one swipe, without unlocking the phone or from any screen: wifi, brightness, airplane mode, blue tooth, do no disturb, rotation lock, iPod controls, AirDrop settings, flashlight, alarm settings, calculator and camera.
Other, important features
Mail, Weather, and Message App have all been updated with an awesome new user interface – Apple is just making things so much easier for us! Really. I think most people will be impressed with the changes in the messaging app.  It's just one of those things you have to experience to understand.
Apps are automatically updated, yes – automatically. Thankfully, no one has to ever be bothered by 17 app updates that continue to add up.
It knows the apps you use the most.
Multi-task by chosing to change or close an app.
Users can now block phone numbers without having to contact their provider.
Is it Fall yet? 🙂
*Image courtesy of Apple, Inc.