How An iPad App Can Help with Speech Therapy, Apraxia of Speech
Latest Ideas
Those of you who are reading this more than likely know someone or has a child who suffers from apraxia of speech.  For those of you who do not know, it's a neurological speech disorder where the brain has problems planning to move body parts necessary for speech.  The cause still remains unknown, but there are so many great resources out there to help these children.  One of them being iPad apps.
Children in general love activities that require them to interact, especially with technology.  So, in order to engage these children, the activity must hold their attention.  Applications are probably one of the best forms out there.  They are very user friendly because the features are simple allowing the children to learn more independently.  Not to mention, they are always being updated to keep the repetition minimal and room for advancement.
Thankfully, there are numerous iPad apps available in the app store and each of them vary in what they can offer your child.  In choosing the app, I would recommend reading over the reviews.  Some of the less expensive ones still have a lot to offer and could be a nice change for your child.  Also, some of those apps can be high priced and not have good quality.
Recently, Blue Whale partnered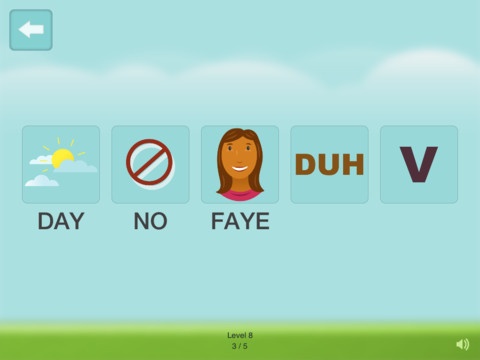 up with the NACD (National Association for Child Development) and developed their own iPad app. It's great to give one more useful tool for these children to keep them engaged.  And we know it's helped because it is ranked in the top 15 medical apps, competing with over 2,000.
Here are some positive and helpful reviews on our Speech Therapy iPad app from our users:
"Over the past year we've downloaded many apps to help our child with phonics.  None has he been more engaged and had more fun.  This is easy to use and fun app for our 7 year old."
"Much more useful than the other speech therapy apps I've seen out there. My daughter likes the pictures and is engaged."
"As both a mom and an SLP, I say: Yes, yes, yes!"
"Nice illustrations, easy to use for my 2yo.  Like how grouped by consonants"
Another benefit for iPad apps are for teachers who work with special needs children.  Due to the accessible features, the students only need minimal guidance and training – making it easier for the teachers, too.  The children can easily engage not only with the app, but also with the other children.  Once a teacher can captivate his or her audience, the app can be turned into a game by engaging all the students.  The more interactive, the better!  And the same goes for speech therapists.  They are able to use them at their office to interact with patients.
If you don't have an iPad or plan on getting one in the near future, you can check out our Speech Therapy – Apraxia board on Pinterest!  It has a lot of different activities that are easy and fun for children of all ages.  And make sure to follow us because we are always pinning new ideas!