Facebook Removing Messaging from iOS; Redirecting to Own Messenger App
Latest Ideas
Facebook sent out an email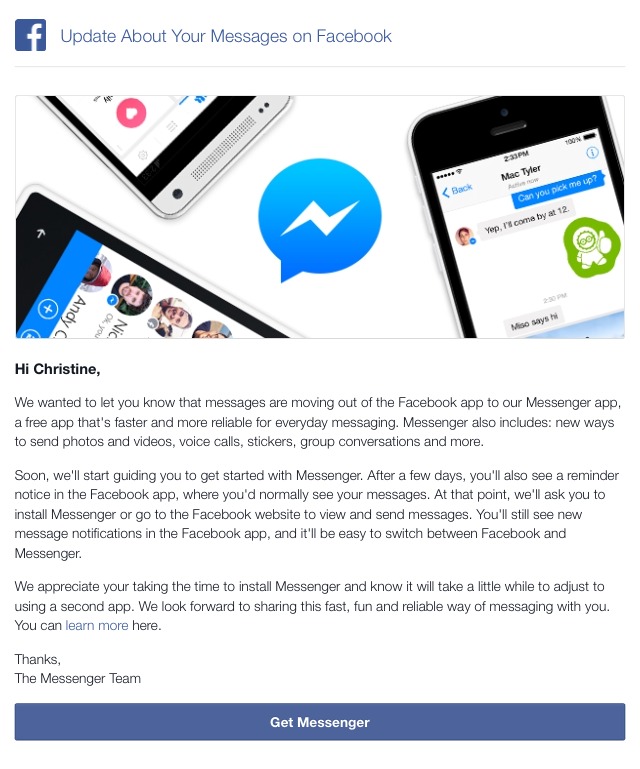 to its users, yesterday, to inform them that they will be removing the messaging feature from their iOS app. Don't fret, the messaging feature will still be available to all Facebook users, but they will require them to download their individual Messenger app from the App Store.
Here's the email that was sent out:
We wanted to let you know that messages are moving out of the Facebook app to our Messenger app, a free app that's faster and more reliable for everyday messaging. Messenger also includes: new ways to send photos and videos, voice calls, stickers, group conversations and more.
Soon, we'll start guiding you to get started with Messenger. After a few days, you'll also see a reminder notice in the Facebook app, where you'd normally see your messages. At that point,
we'll ask you to install Messenger or go to the Facebook website to view and send messages. You'll still see new message notifications in the Facebook app, and it'll be easy to switch between Facebook and Messenger.
We appreciate your taking the time to install Messenger and know it will take a little while to adjust to using a second app. We look forward to sharing this fast, fun and reliable way of messaging with you. You can learn more here.
Thanks,
The Messenger Team
You can download the Facebook Messenger App in the App Store.