Easy Mass Distribution Bodes Well for iPad App Development
Latest Ideas
While iPad app development is on the rise according to figures recently released by Apple, a recent Apple-created app shows the company's sympathetic pitch for businesses and nonprofits who want to integrate iPad use into everyday business. An article published by Forbes.com analyzes Apple's new Apple Configurator, an app designed to make it easy to mass distribute iPads for any business or nonprofit organization. Apple Configurator allows organizations to efficiently set up multiple iPads, iPod Touches, or iPhones with an easy to use interface.
Apple Configurator Eases the iPad's Transition to the Business Sector
According to Apple, Apple Configurator allows users to, "prepare new iOS devices for immediate distribution, supervise devices that need to maintain a standard configuration, and assign devices to users." This new app shows Apple's willingness to readily move into the business sector to bring the ease of use and functionality of Apple devices and apps into the workplace.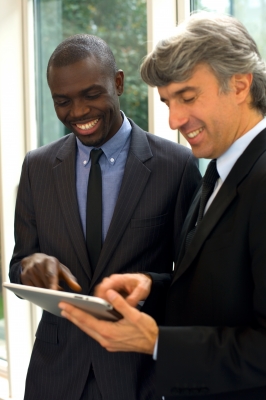 Hospitals, schools, and retailers are warming to the use of Apple devices in aiding students, healthcare personnel, and business owners in working smarter, faster, and with more continuity. In fact, five out of five of the doctors in my personal physician's office said they received iPads, and are looking forward to upcoming training on how to use the devices in the office. From small towns to big cities, Apple apps are becoming a part of everyday life and commerce in the U.S.
iPad App Development Profits from Apple's Vision
iPad app development continues to expand on the uses for Apple devices, and the future is likely to hold innovative iPad apps that change the way many businesses and schools operate. From presentations, learning aides, record keeping, and retail services, the App Store already has a wide range of apps suitable for businesses and non-profits. The iPad, iPod Touch, and iPhone boast an easy to use interface and set-up with minimal IT maintenance necessary. With the Apple Configurator, organizations can now choose to mass upgrade operating system updates on all devices to make maintaining the devices effortless for those who use them on a daily basis.
Signature Apple apps like Garage Band, Pages, Keynote, and more recently iPhoto, have become staples in the workplace for many professionals. With the addition of third party iPad app development, countless apps for business make nearly any work-related task easier and convenient with an Apple device. The App Store's business category is chock full of promising apps and ipad app developers with one goal- to make business more efficient, more entertaining, for those who embrace technology in the workplace.
The Apple Configurator app is especially good news for school districts embracing the iPad in the classroom, since batch configuration reduces the workload on the school's IT department and gets new iPads into the hands of students and teachers more quickly. With the Configurator app, even a techno-phobic person with little to no experience with technology can successfully use and maintain an iPad, iPod Touch, or iPhone for business use. iPad app development for the business and education sector will likely respond positively to the added accessibility afforded by the new Apple Configurator app.