"Choose Your Own Adventure" Model Moving to Digital
Latest Ideas
Remember those fun kid's books that allow you to choose how the story plot twists and turns by picking from two plot choices and turning to the appropriate page to continue your story? Those who grew up in the '80s probably read every "choose your adventure" book they could get their hands on, the books were so popular. R.A. Montogomery, the founder of Choose Your Own Adventure, wants to raise $130,000 to fund a mobile app developer in creating an app with the same structure.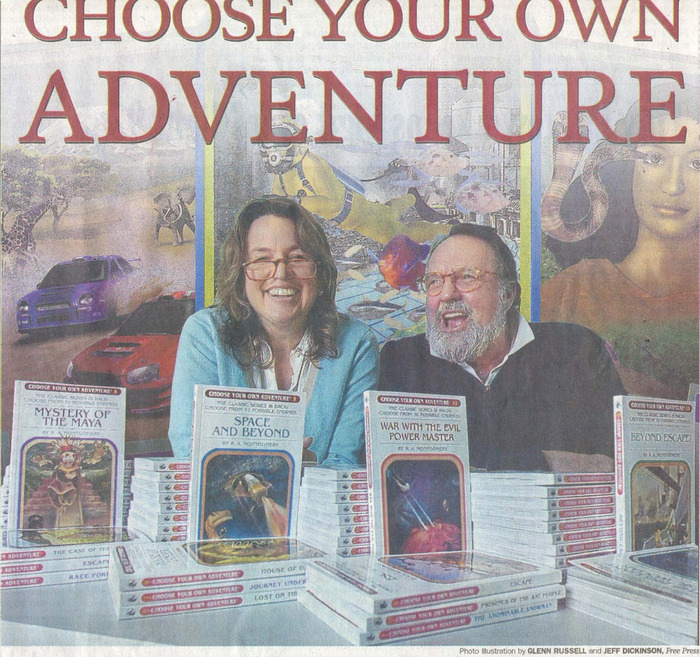 The Choose Your Own Adventure books are "the fourth best-selling children's series of all time and fifth best-selling book series of all time with over 260 million books printed in more than 38 languages." Heck, I'd even buy the app just to bring back fond memories from childhood. It's a great concept with good replay value. You can always go back and choose an entirely new story just by making a few differenet decisions. Today's kids may never have read a Choose Your Own Adventure book, but the appeal of directing the hero's actions still calls to the masses according to preliminary polls.
If successful, the app will be called Choose 'Toons, with the first release slated for May 2014. The first installment planned will feature "Your Very Own Robot" as the story title. The teaser reads,
"Your parents are scientists. One day, they throw out some pieces of a robot in the trash. If you can figure out how to put the pieces together, you'll have a robot of your very own! But do you know enough to control it, or will it take over your school?
YOU choose what happens next!"
Sound interesting enough to get your kids to play along? I'd probably angle for the robot taking over the school, but others may strive to figure out the robot-building quandry and achieve scientific success, not to mention gaining someone to clean your room for you.
You can find the prokect on Kickstarter under "Choose Your Own Adventure CHOOSE 'TOONS". To date, the project has 256 backers with $30,652 raised so far. That's an average of about $120 per backer. The kickstarter project has 24 more days to reach its $130,000 goal. That's $99,348 more dollars or $4,140 per day for the next 24 days. Without massive promotion or a wealthy backer or two, the project may not make it to fruition.
You can watch the promotional video on the Kickstarter site and choose to back the project with as little $1 if the mood strikes. Different pledge levels are rewarded with special promotions like a "Your Very Own Robot" stylus, or access to BETA testing the new app. Those who donate $6 will receive the app for free when it launches. Pledge $90 bucks and you can even be drawn into a scene within the app. Other incentives include rare collector's edition of the popular children's books, or a trip to an as of yet undisclosed location featured in the app. Even if you decide not to pledge but the like the idea of the app, you can help support the cause by promoting it on social media and the Net.
*Image courtesy of Kickstarter.