Every year, Apple conducts a Worldwide Developers Conference to announce the launch or updates of their software and hardware. Just like every year, the Apple WWDC was held between 3rd and 7th June 2019 at San Jose's McEnery Convention Center in California. In this year's WWDC, there were a number of compelling announcements that left the people in awe.
Considering the numerous yet significant software updates for iPhone, iPad, Mac, Apple TV, and Apple Watch and introduction of the new devices such as Mac Pro, Pro Display XDR, WWDC 2019 has been a remarkable event in the history of Apple's WWDC.
Here's a list of the major announcements made at the Apple Worldwide Developers Conference 2019.
iOS 13 updates – from enabling dark mode to enhanced security features, there are a lot of new features
iOS 13 is finally here with a lot of updated apps and the most awaited dark mode feature. The dark mode not only makes the content attractive and pleasing but also makes it easier to eyes, as a result, users can enjoy a darker and user-friendly version of the iOS interface. It has been implemented across all the major functions and applications, including notifications, notes, music, photos, calendar, etc., allowing you to focus on the major content as it easily stands out due to the dark/black background. Apple also allows the external applications to tap into the dark mode feature to be able to deliver a better user experience to its users.
In addition to darker backgrounds, there are features like new photo tools and swipeable keyboard in iOS 13 updates. It has been years since Android implemented swipeable keyboards. At last, Apple has enabled its users to trace the word instead of tapping onto the letters. Apple calls it QuickPath Typing.
With iOS 13, Apple has enhanced security for its users by introducing new privacy feature called sign in with Apple. The benefits include:
Users no longer need to share their email address and other personal information to log into accounts and applications.
Users can authenticate with a Face ID without sharing any personal information.
Users can choose to share or hide the email address.
They can create a random email id to mask the real identity without needing to use a junk account.
They can be assured that their personal information is safe and cannot be tracked since Apple prevents third-party apps from doing so.
iPad OS – iPad's own operating system
One of the major revelations at the WWDC 2019 was the announcement of the introduction of iPadOS, a separated operating system designed to leverage the larger display of the iPad. Considered to be a historic announcement, it surely changes the user experience of the iPad for better.
From redesigning the home screen, enabling quick access to multi-tasking and editing features, it is an extension of the mobile operating system that also makes it as useful as Mac.  Few of the important features of the iPad OS are as follows:
Multiple apps in slide over or dragging for split screen
A floating keyboard that saves space: enabled QuickPath Typing
Enhanced editing features: Three-finger pinch, spread to copy, cut, and paste or a three-finger swipe left and right to undo and redo.
Support of USB thumb drives and camera imports from USB cables directly
Catalina – The new version MacOS
The new version of MacOS, Catalina was one of the major announcements at the WWDC 2019. It is the replacement of the traditional iTunes app, which has been divided into three applications for Music, Podcasts, and TV.
Podcast app for searching the shows and episodes based on content
Music App for accessing all the music (Downloaded, Purchased or from a CD), including 50 million song libraries of Apple Music
TV App for watching and buying movies and TV shows
Additional features of MacOS Catalina are as mentioned below:
Support for the iPad as a second display through a wired or wireless connection
Ability to port the iPad apps to Mac with Project Catalyst technology
Complete local voice control (without sending it to the cloud) managing applications, editing text to adjusting the volume
New Find My app to search for the other device through Bluetooth, eliminating the need to be connected to the internet
New Reminders App for Mac
New Mac Pro and Apple Pro Display XDR
One of the biggest highlights of the event was the announcement of the New Mac Pro, a completely redesigned breakthrough workstation for professionals who require a modular system with extreme performance, enhanced expansion, and increased configurability. Despite being criticized for its design, it is surely considered as one of the most powerful systems created along with the Pro Display XDR to be its companion.
The new Mac Pro has powerful Xeon processors, massive memory capacity, unique GPU architecture, PCIe expansion, afterburner accelerator card, and new design. The Pro Display XDR has retina 6K resolution, gorgeous colors, extreme brightness and contrast ratio, and highly functional design that compliments the Mac Pro well.
With Mac Pro, Apple has,
Increased the processor power and bandwidth
Ensured enormous memory capacity
Provided powerful graphics architecture
Introduced Apple Afterburner, an accelerator card
Provided Modular Enclosure with 360-degree access
The new watchOS 6 update got a dedicated App Store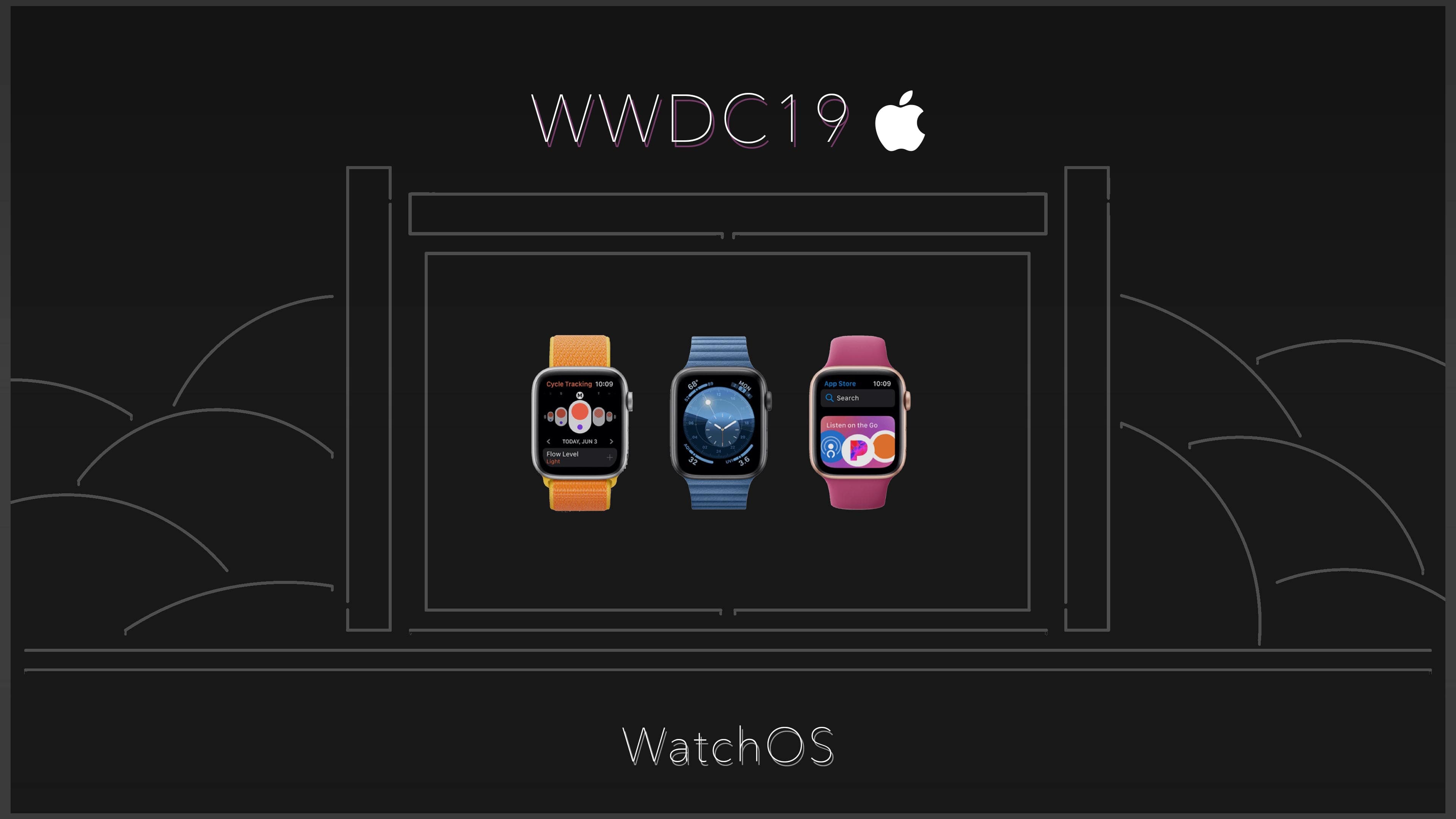 Apple introduced one of the biggest upgrades ever to watchOS while taking a path to make it a standalone device (eliminating the need to connect with the iPhone) in the near future. The new watchOS 6 has got its own AppStore that can be operated with Siri, scribble or voice dictation. Users will be able to stream audio from Apple music and third-party apps. With a bunch of new applications specifically designed for watchOS 6, it is sure to enhance its functions making it less reliant on other devices. The new applications include:
Audiobooks to find and listen to favorite titles on watch
Voice memos to record audio
Calculator for quick math through the watch
The watchOS 6 will also have new health and fitness features like hearing health to inform when the ambient noise is too loud and harmful for health as well as menstrual cycle to track period.
Coding made easier with ARKit 3 and Swift UI
ARKit 3 will make developers equipped with new tools to build rich augmented reality experience. It can enable the front camera to track up to three faces with a simultaneous front and back camera support.
The new features are of the ARKit 3 includes:
Motion capture to integrate people's movement into the app
People occlusion to AR content to show up naturally in front of or behind people to enable more immersive AR experiences
The new Swift UI framework is modern and enables developers to simplify the code writing process as well as makes the development easier and more interactive. Xcode is built with a real-time UI preview that not only saves time but allows users to fasten the code writing process. Swift UI provides automatic functionalities, including interface layout, dark mode, accessibility, right-to-left language support, and internationalization.
Developers can easily create apps for Apple watch while using Swift UI since it is a native framework for building Apple Watch apps. In addition, it is the same API used for building iOS, iPadOS, MacOS, watchOS, and tvOS, hence, developers can easily build native apps across all the Apple platforms.
Wrapping up:
Although Apple hasn't revealed much about the Apple Arcade, it is said that Apple TV getting Xbox One and PS4 DualShock controller support. Since Apple has launched powerful systems such as Mac Pro, updated security features, it shows that they have been trying to keep up with the excellent and popular Android features among the people with dark mode, QuickPath typing, editing features, etc. In comparison with announcements made at the earlier Apple WWDC events, it is clear that this year's keynote was compelling and groundbreaking. With the announcement of watchOS 6, iPadOS, iOS 13, Mac Pro, Apple has taken a huge leap in taking their brand to the next level.