Apple Developer Portal STILL Down – iOS Developers Getting Anxious
Latest Ideas
There are many situations app developers do not want to encounter. One of those being the Apple Developer Portal out of commission. Unfortunately, that is currently taking place and putting app projects on hold.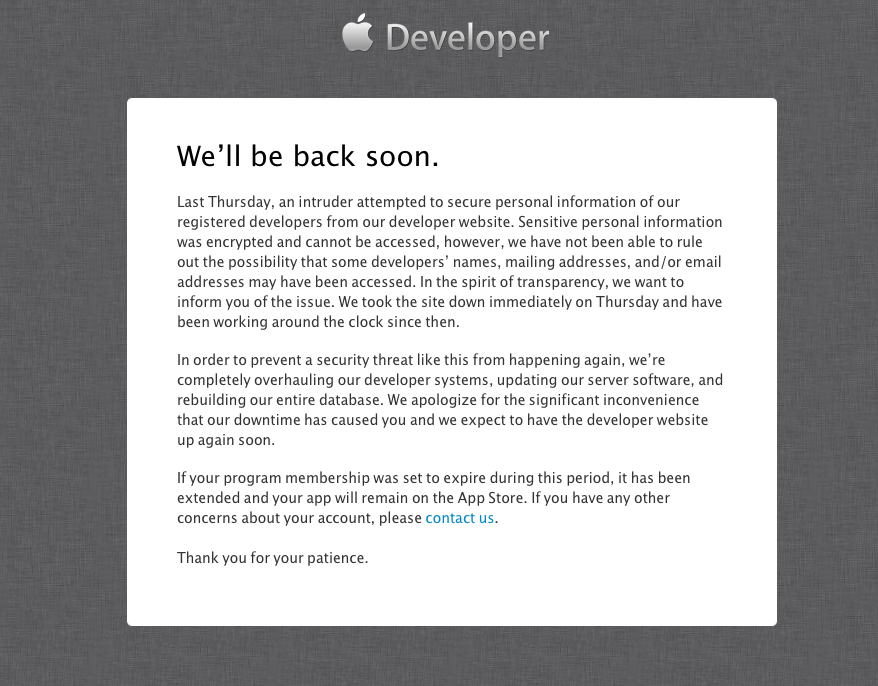 Why is the Apple Developer Portal so important?
Mainly, it is required to submit apps for approval in the App Store. However, without this portal, app development companies cannot add devices to send builds, internally or to their clients, to test the apps.  Therefore, apps are currently on hiatus until this matter is resolved, greatly impacting business for both parties.
Other significant reasons:
Setting up App ID's for distribution through either AdHoc or iTunes
Setting up development and distribution certificates
Setting up provisioning profiles
Developer forums
Access to beta versions of iOS/Mac OS X
Access to iOS documentation
Why is the portal down?
The Apple Developer Portal has been down since last Thursday – it has been reported that there was a security breach.  This is the message Apple sent out to developers:
"Last Thursday, an intruder attempted to secure personal information of our registered developers from our developer website.  Sensitive personal information was encrypted and cannot be accessed, however, we have not been able to rule out the possibility that some developers' names, mailing addresses, and/or email addresses may have been accessed.  In the spirit of transparency, we want to inform you of the issue.  We took the site down immediately on Thursday and have been working around the clock since then."
According to a report with
TechCrunch
, who spoke with an Apple representative and was able to confirm the following information:
iTunes accounts did not get compromised, only developer accounts.
No credit card information was retrieved by the hacker.
They do not have a time frame on when the site will be available.
It's apparent Apple will have to repair their server software and the database. Anticipation is surfacing throughout the iOS development community in hopes this gets resolved before long.
*Image courtesy of Apple, Inc.