5 Travel Tips & Useful Gadgets For Your Next Adventure!
Latest Ideas
Traveling can be a hassle – so try these simple travel tactics! The next time you venture out, whether it's for business or pleasure, I hope you take these easy, convenient, and inexpensive tips/gadgets along with you!
1. Neck pillow with iPod capabilities – how cool! Nothing is worse than being on a plane or in a car with your neck cocked to the side and no support.  So, why not jazz it up with your iPod, too.  Genius!
2. Okay,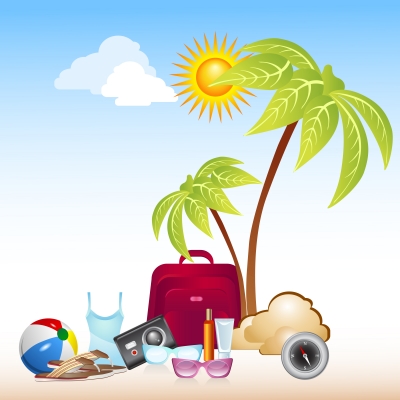 raise your hand if you've ever put shoes in your suitcase with some sort of white colored article of clothing, and cringed.  Mine is definitely raised!  I have found a simple, and inexpensive way to solve this issue – a shower cap!  Don't laugh.  Just stick those dirty-soled shoes into that shower cap, and you're worry free.
3. Ladies (and possibly some gentlemen), no one likes to untangle necklaces after they've been rummaged around in a bag.  No matter how neatly you position them or fold them up, it's inevitable.  So, I have a solution and you'll probably snicker at this one too, but buy yourself some straws.  No joke.  Unclasp your necklace, place the straw over one part of the chain, clasp it back together, and Voilà! Say buh-bye to knotted and twisted necklaces, forever.
4. Speaking of tangled and twisted – do you hate when your earphones are like that, too?  I sure do.  But through my vigorous online researching, there is a product called "Tangle-Free Earphones" by Design-Go and they're retractable.  Gee, if only I had thought of that!
5. Emergency! Emergency! Read all about it!  We have all been there on our long trip where our iPhones/iPods have diminished down to 30% battery life, and still have another few hours until we can recharge it.  Well, that's why you need a back up battery.  And I've found one for under $5 on Amazon.  I have read the reviews, and for the price, people say it works great!
6.  I know I said 5, but I surprised you with a bonus tip – I'm so sweet!  Nothing is more frustrating than loading up your boat, getting to the dock and realizing today is not a day to explore the deep blue sea.  But, say you do decide to leave the dock, you can track wind speed, wave height and surf forecast.  Therefore, our Boating Weather app is a necessity for you, Captain!
Hopefully, after reading this blog, you have some better travel knowledge!  And I have a few more tips on our pinterest site – these were just a few of my favorites.  Take a gander for more awesome tips; it's only a short "trip" away! 🙂 Bon voyage! Maybe I need to plan a trip to France now…
Image courtesy of digitalart at FreeDigitalPhotos.net